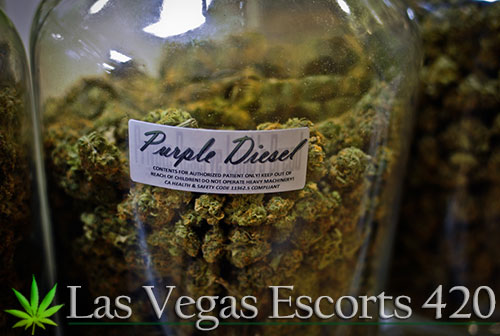 If you're visiting this site, you've probably already heard the great news: marijuana is now legal in the state of Nevada. You can purchase up to a full ounce of weed at a time (you can always buy more, but don't have more than an ounce on your body at any time), to enjoy recreationally! Now, while this is great news, there are still other laws that need to change in order to make it that much better.
You can't walk down The Strip, blazing a joint while singing Buffalo Soldier. Not going to happen. Well, it could happen, but you'd end up singing Don't Worry, Be Happy from a jail cell. You also have to look for very specific locations to smoke it, as casinos are still barred as well (there are major laws currently in place barring gambling and narcotics). Once you have your lodging booked (or at least have an idea where you'll stay), you'll need to know where to buy recreational weed in Las Vegas. Here is what you need to know.
So Where Can You Buy Weed in Vegas?
Around Las Vegas, you're going to find a handful of Vegas dispensary facilities. These are destinations that have received both the local and state approval to sell pot. When the law went first into affect there were a total of 37 dispensaries throughout Clark County (including Las Vegas). There are now more that have received the necessary legal approval, but you'll see the destinations around the area.
So Who Can Purchase From the Las Vegas Pot Shops?
In order to purchase weed, according to the Nevada recreational marijuana laws, you need to be at least 21 years of age. However, if you are a state of Nevada resident with a medical marijuana card, you can purchase it at a younger age (although individuals under the age of 21 with this card are few and far between). Ultimately it is sold in a very similar manor to alcohol.
Is There a Difference Between Recreational and Medical Marijuana?
In terms of product and quality, there is no difference at all. Both are also sold in the same manor. However, recreational marijuana is a bit more expensive. There is a 10 percent sales tax attached to it (specially designed specifically for recreational marijuana). This money, in case you're wondering, goes to the state's rainy day fund. In total, about 32 percent of the final price of the pot goes to state taxes.
Now How Much Money Comes Out of My Stripper and Escort Fund For Pot?
It kind of depends on the quality of the product you're buying. It's also going to be more expensive in Las Vegas (so if you're driving from out of state, consider buying it in a different county). In Las Vegas, recreational marijuana will range from $40 to $40 for 1/8 an ounce. This is compared to the $30 to $60 you would spend if you had a medical marijuana card.
What Monetary Options Do I Have?
You are not going to be able to use your credit cards at all. Dispensaries, whether in Vegas or really any other state of the country, doesn't accept anything other than cash. This is due to most banks not working with what is referred to as a "high risk" company. However, most locations also have an ATM on location. With that said you might want to withdraw cash at a traditional bank's ATM as these locations are going to have higher withdraw fees (typically). It's like going to a strip club. If you use the strip club ATM you're going to pay a nice hefty fee to gain access to your cash (but hey, when it comes to boobs and pot, sometimes an extra fee is totally worth it).
What If I'm Caught Smoking in a Non-Smoking Location?
Don't. That's all we can really say. If you're busted, you'll pay a fine of at least $600. So stick to your booked AirBNB.
Now that you know exactly where to buy marijuana in Las Vegas, you're good to go with making your legal weed purchases. Of course, you'll still need to make an appropriate booking for where to stay (and lets not forget setting appointments up with the must have beautiful escorts of Sin City). But now that you have information on where to buy, you can set up the rest of your vacation plans.